It's our Thursday Night Social time 🙂 ~~~
Happy "Friday Eve" ~ and I hope you're having a happy week! This is my favorite cocktail hour as we head into the weekend. We're seeing college friends this weekend for a big concert event, so I'm really looking forward to some fun!
As usual, let's start with a cocktail, shall we? A lot of cocktails! Every so often, I do a round-up of cocktails and mocktails shared the past months, and that's the post for this week. Selfishly, it puts lots of photos and links in one post so they're easy to find ~ and it's like one big social hour with a lot of eye-candy for our bluwaterpals! Win, win!
Let's get this party started! First, a quick shout-out and thanks to other blogs and sources. 🙂 I always post the direct link and give credit to the original source, and hope y'all visit the original posts and blogs. They're all AWESOME!
This non-alcoholic Florida Spritzer ~ from myrecipes.com ~ has been calling my name for weeks! Mix and chill the ginger/grapefruit base, and then pour over ice ~ or add some rum or vodka for an adult version. Sounds perfect to me!
I LOVE a Classic Madras! It's my go-to brunch drink. 🙂 Cousin to the Cape Code, Sea Breeze and Salty Dog ~ just OJ, cranberry and vodka with a pretty fruit garnish. Love that color!
This PERFECT rum punch is from Michael at inspiredbycharm.com. Love his style and his blog ~ check it out ~~~
For some bright Caribbean color, try my own Bluwatersplash. It's like summer in a glass ~~~
Another colorful Caribbean classic is the Yellow Bird cocktail. This one is from moderntiki.com ~ another of my fave blogs ~~~
For some classic tiki style, how about my Tru Blu Mai Tai ~~~
More tiki style with this Freaky Tiki cocktail from dailyscocktails.com ~
My Grilled Pineapple Mojitos are delicious indoors or out ~~~
How about this Hurricane Martini? The flavors of a New Orleans Hurricane served martini style from callmepmc.com ~~~
I get thirsty just seeing the photo of this all natural (and non-alcoholic) Citrus Punch from errenskitchen.com ~~~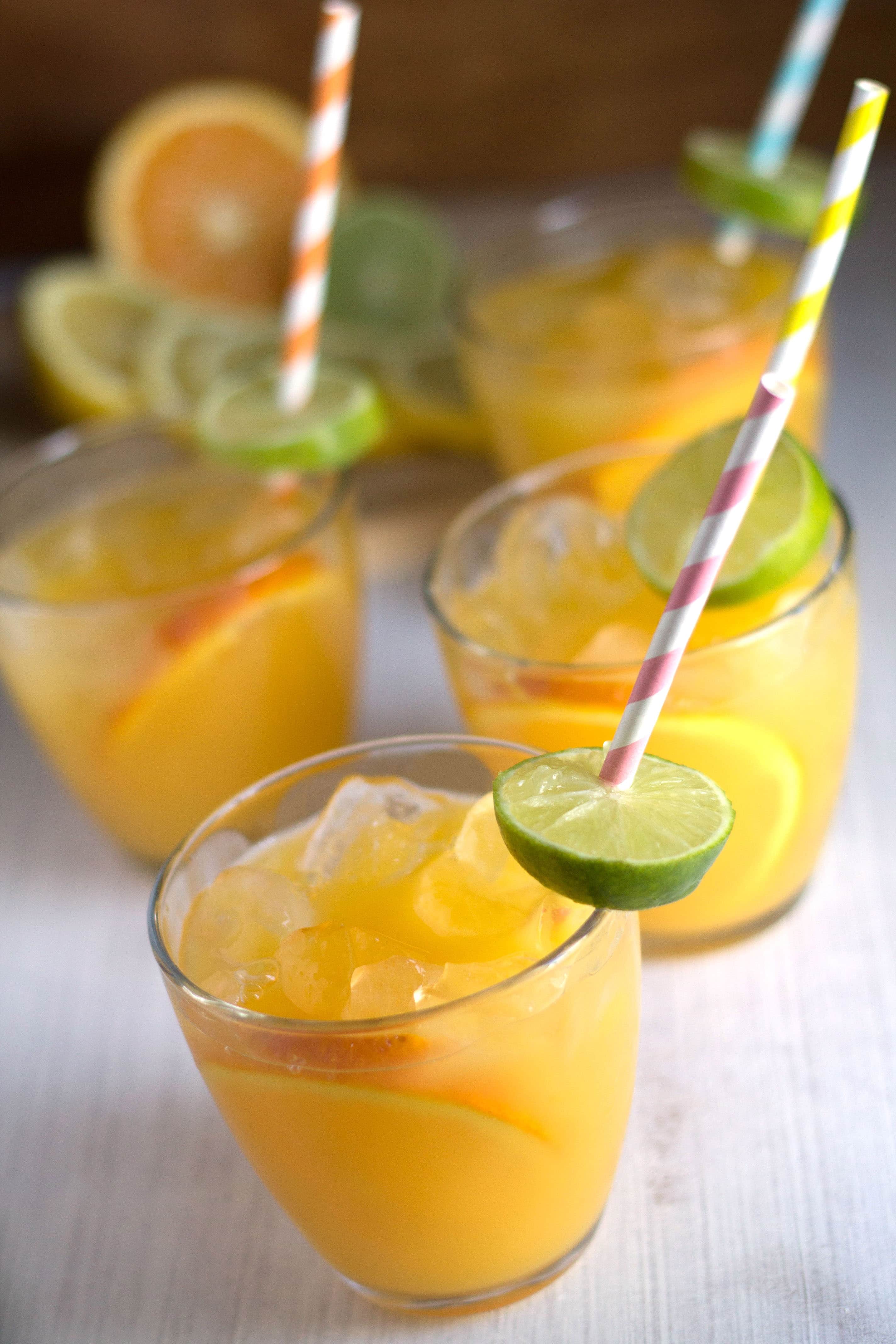 Another healthy and refreshing choice ~ try my own bluwaterlife Lime and Mint Infused Water ~~~
LOVE this non-alcoholic punch recipe ~ pineapple, orange and cranberry juice with a splash of fizzy tonic water. So refreshing and so pretty ~~~
Here's another punch recipe that works well as a non-alcoholic version, or with a shot of booze. The recipe uses fresh cranberries and key limes, but I totally make this with good cranberry juice and Nellie and Joe's Key Lime juice ~~~
That's it for this week's Thursday Night Social. So many great links and recipes for cocktails and mocktails! Did you see the tour of my cocktail and appetizer bookshelf last week? More great go-to resources for any kind of get-together! We'll start a new round of socials next week. Hope to see you then ~~~